Prompt & efficient service
Tile samples are provided in 10 x 20 cm format. You can order any number of samples at any one time. Please note due to natural colour variations, differences in shade can occur.
Finding your tiles
You can start here by browsing our tile collections. You can browse by tile effect or get some inspiration from our lifestyle photos.
Adding tiles to your sample order
Simply click on the tile range you are interested in. Within the Styles & Colours section of each range you should see the tile swatches that are available and their corresponding Order tile sample buttons. Clicking the appropriate button will add the tile selection to your order. Notice that each tile will have its surface finish shown. Tiles are available in Polished, Honed, Natural, Grip and Structured finishes. You can read more about these surface finishes here.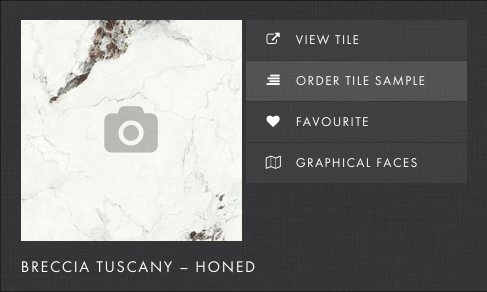 Completing your order
To review your items or to complete your order simply click on the tile icon in the top right-hand corner on any page of our website. You will then have the opportunity to review, edit or complete your order. To complete your order click on the 'COMPLETE ORDER' button shown below within this area.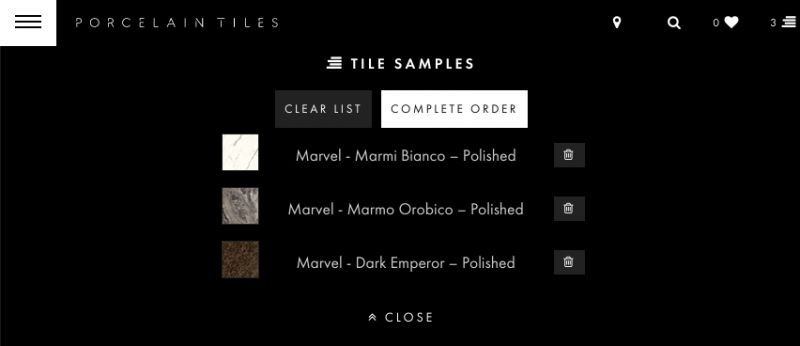 Need help?
Clients are also welcome to meet with their interior designer or architect at our impressive and spacious London showroom to view the latest Collection.  All porcelain tiles are displayed on our unique, full-height feature walls, which allow the beauty and intricate texture of each range to be fully appreciated. We are also available for guidance and expert advice on suitability and trends in order to help realise the full potential of each project. Please do not hesitate to contact our specification team on 020 3141 3337 or email on enquiry@porcelain-tiles.co.uk.