Trasformiamo ogni idea in realtà
Welcome to Tailor-made+ where ideas become reality. From simple cut-to-size requests to bespoke kitchens, bathrooms, offices and furniture, every designer and every project can now take advantage of the stunning beauty, unrivalled choice and superior technical performance of Italian porcelain stoneware.
Perfection in every detail
Spanning both product and interior design, our Tailor-made+ solution celebrates the artistry of porcelain stoneware and offers support, expertise and a world of possibilities for designers, specifiers, contractors and product manufacturers to create original pieces and luxurious interiors.
A deep understanding of porcelain stoneware and an eye for detail: we are proud to have created the most advanced, state-of-the-art design studio in the UK. There, a talent of architects, engineers, CAD technicians and account managers ensure that only the highest quality products, crafted to your exacting standards, are allowed to leave our studio.
Every item is carefully crafted, combining your creativity with the beauty of Italian porcelain stoneware. Each piece embodies the care and attention that only quality workmanship and a team of highly skilled technicians can provide. With exceptional quality in every detail from the perfectly mitred edges to the beautifully integrated surfaces, you can be confident that each element will be a visual delight, not only on the day they leave the studio, but for many years to come.
Who is Tailor-made+ for?
We support three core groups, interior designers, product manufacturers and professional contractors. We help designers to create bespoke interiors from stand-alone items to complete furnishing solutions. We enable furniture and design manufacturers to integrate porcelain surfaces into their products. And we supply pre-cut porcelain slabs and mitred panels to professional contractors, improving efficiency, reducing wastage and removing any risk of breakage onsite.
Interior designers, product manufacturers & professional contractors
For interior designers there are no limits, create one-off pieces of furniture, kitchen islands and bathroom vanities from the finest Italian porcelain stoneware and provide your clients with an unlimited choice of bespoke options. Enjoy great craftsmanship with full manufacturing and installation support from an experienced UK based team.
Product manufacturers get to offer their clients the widest possible selection of over 150 colours and styles for tabletops, inlays, countertops, storage and media units. And with reliably short lead-times and the full support of our project managers and in-house templating and installation teams, these exciting opportunities come risk free to both you and your clients.
Professional contractors enjoy significantly reduced installation times through pre-cut slabs for flooring and surface covering. By receiving cut-to-size pieces supplied with 45° mitred edges, 3D cladding is stress-free with virtually no waste. Or for more complex installs, take advantage of our laser templating service for precision cut steps, staircases and circular seating.
Bespoke Products
We undertake projects of any size or shape, rectangular, circular or curved and can combine mixed materials including wood, glass, stainless steel and aluminium. Every piece is bespoke, engineered with exceptional craftsmanship and offers the unrivalled technical performance and sustainability that only porcelain stoneware provides.
We have collaborated with a number of designers to create a small range of bespoke products to demonstrate some of the possibilities of working with porcelain stoneware. This is just a selection of what is possible. Through Tailor-made+ you can rely on manufacturing expertise and technical support, allowing you to create with this innovative material and design with freedom.
Colours
With a collection of over one hundred and fifty styles of marble, stone and concrete, the potential to push creative boundaries has never been more accessible. And with so many possibilities at their fingertips, designers have more freedom to follow their design principles and create unique concepts.
Onyx

Marble

Stone

Precious Stone

Concrete

Wood

Classic

Contemporary

Bookmatched
Finishes
Many of the surface coverings we provide are offered in a choice of finishes. Use the authenticity of Natural, the soft touch of Honed, or the spectacular elegance of Polished, to provide fine control over the visual impact and tactile feel your design.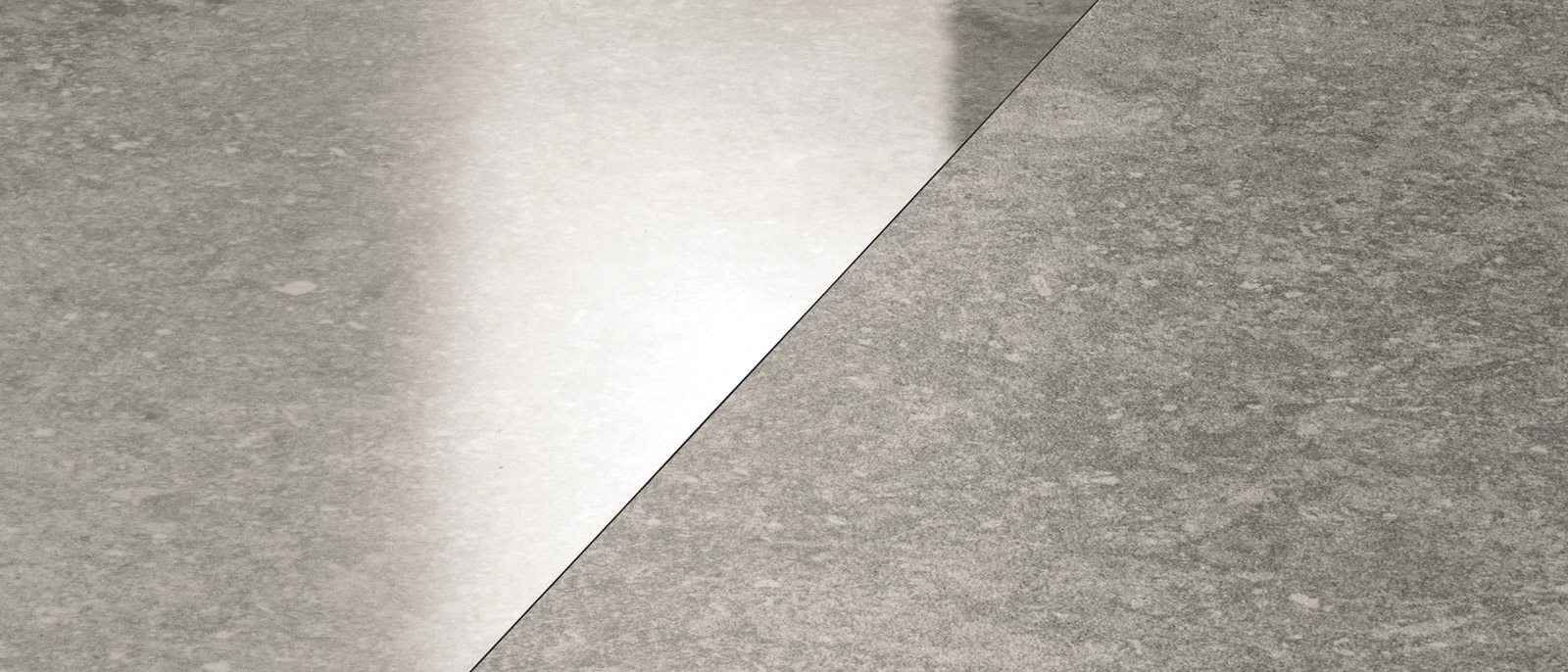 Edge Profiles
Through our cut-to-shape service, many Tailor-made+ projects including countertops, table tops and steps can access a choice of edge profiles. Whether to fulfil a practical requirement or chosen purely for their aesthetics, each one is both functional and beautifully finished.
Straight Edge

Pencil Edge

Double Pencil Edge

Bevelled Edge

Double Bevelled Edge

Shark Nose Edge

Bullnose Edge

Half Bullnose Edge
Made for the kitchen
Innovative, technically advanced and built to last, Italian porcelain stoneware has transformed kitchen design. By combining the widest selection of dramatic designs and textures, with the most durable and hygienic of surfaces, designers and architects can now deliver on performance, function and beauty.
Unlike many natural materials including wood, stone and marble, porcelain is entirely non-porous. This provides an extremely hygienic, anti-bacterial surface that is ideal for food preparation. It has a durable, non-scratch finish that is heat and blade resistant, and does not require sealing like granite or marble. The surface offers protection against mould and mildew that cause odours, while coffee, red wine or tomato based sauces will not stain and cleaning products are safe to use.



Scratch Resistant

Porcelain stoneware is extremely hard-wearing, suitable for professional countertops, even cutting boards!




Hygienic

A non-porous surface means that bacteria cannot grow, creating a hygienic surface that is ideal for food preparation.




Heat Resistant

The surface of porcelain is resistant to extreme heat, so there is no need to worry about pots or pans direct from the hob.




Stain Resistant

Market leading stain resistance mean that daily products like coffee, red wine or tomato based sauces will not stain.




No Limits!

With so many complementary styles & application possibilities, entire schemes can now be specified with porcelain surfaces.




No Sealants

Enjoy the beauty & authenticity of natural materials like marble & stone without any maintenance or sealing requirements.




150 Colours

With a vast range of authentic colours & textures to choose from, there is no limit to the creative opportunities that porcelain provides.




Sustainable

Porcelain stoneware is manufactured using sustainable processes that minimise environmental impacts, conserving energy & natural resources.
Inspiration & Design Ideas
Take a look around our inspiration board for Tailor-made+ project ideas for the home and office. Or browse by room and experience some of the designs that our clients are conceiving.
These ideas are just the beginning of your design journey. Working alongside Tailor-made+ you will have the tools and support needed to conceive and create virtually any item. From a luxury bathroom to impressive boardroom, a retail display to a showcase dinning table, every project can now represent your personal style and fulfil your own particular needs.